KIRKLAND GALLERY is a student organization dedicated to supporting the Harvard Graduate School of Design community and its emerging artists/designers. As the only student-run gallery on campus, they seek out transdisciplinary proposals that expand the creative discourse within the GSD and the Harvard University community at large.
The final exhibition of the Fall 2018 term brought together two separate art practices, each exploring an aspect of audiovisual experience.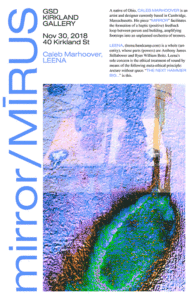 Work Featured:
MIRROR - Caleb Marhoover
Only in limited circumstances might you associate an experience with the floor as integral to the essence of a building. To correct this common negligence, this project constructs a false floor that exists to call attention to itself. Mirror facilitates the formation of a haptic feedback loop between person and building, amplifying footsteps into an unplanned orchestra of tremors.